If you thinking about where you trade your cryptocurrency then you are in the right place. Today we are going to review about Ethfinex trading platform. In this guide, Ethfinex preview we will discuss its history, security, fees, supported assets, feature, its pros & cons and much more.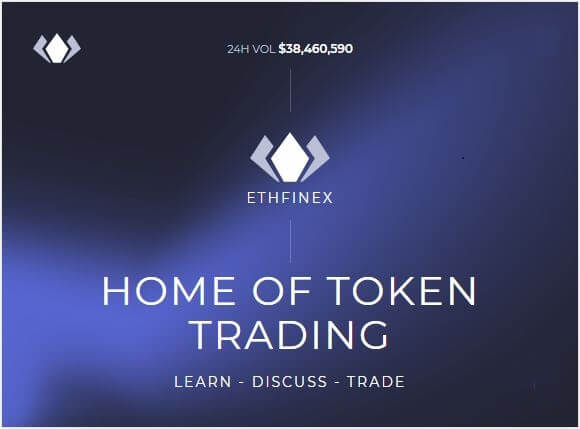 Ethfinex is a digital token or digital assets trading platform. In other words, it is a cryptocurrency trading platform where you can trade your digital assets. It is a centralized exchange that provides users to trade and exchange Ethereum based ERC20 tokens to other tokens.
Ethfinex is a new digital trading platform and this is also the best place to buy, sell, and trade your token or assets. It also supports a wide range of ERC20 tokens. Ethfinex is a cryptocurrency exchange and trading platform that focuses on ERC-20 tokens and the Ethereum (ETH) network.
Table of Content
About Ethfinex
Initially, Ethfinex was launched only for Bitfinex users on 29 December 2017. Next month on 15 January 2018, it is opened for all new users.
Ethfinex is similar to the Bitfines in fact, Ethfinex is launched by Bitfinex. However, Bitfinex is a Hong Kong company and operated by iFinex Inc. and Ethfinex is registered as in the British Virgin Islands.
Bitfinex is launched in 2013 and it is the most popular and largest digital currency exchange. Rathe then as you know Ethfinex is launched in December 2017 for Bitfinex users and in January 2018 for new users.
Features of Ethfinex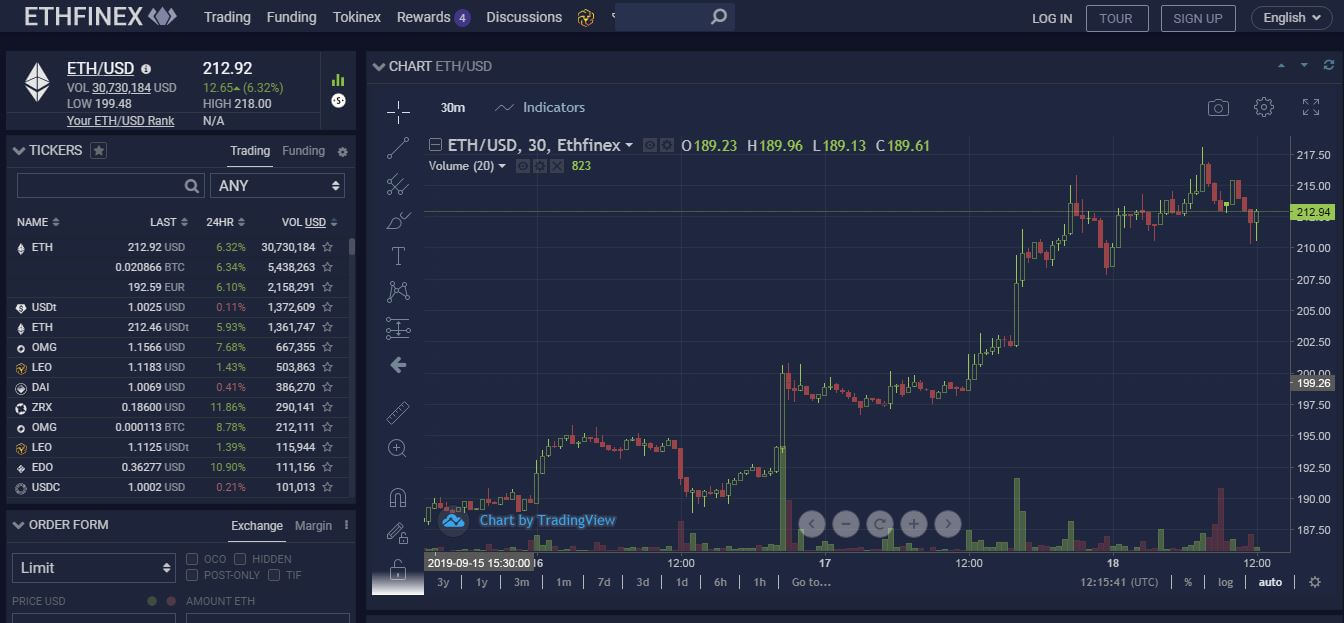 Functionality- It provides highly customizable interfaces to his users. On the first page, you can select the trading token. After selecting a token main trading page will open. The right side shows a trading token graph and left side all token list shows. You can select any token on this list. The graph changes accordingly to your selected token. Everything is user-friendly and easy to manage.
Security- The main security feature is 2FA (two-factor Authentication) and this is available on this. Ethfinex developers and engineers are used advanced technique security features available in today's world. Most of its assets are store on cloud and very few assets can be managed on hot wallets.
Support- 24/7 customer support services are available there. You can take help by using the Support Center. They do not provide customer services on E-Mail and by phone. They have a twitter account and a Telegram group. So you can contact them on twitter or telegram. You can also submit your ticket to the contact support center.
Trading- Ethfinex provides a large number of trading tokens. It also provides Margin Trading and Margin Funding. You can margin trading of up 3.3x using their peer to peer margin funding facility.
Nectar token (NEC) has its native token. This toke is a giver to the user in the form of rewards. If you exchange your currency then you gain token in the form of reward. It is also called a loyalty reward.
Supported Tokens
Ethfines currently supported 103 tokens which are based on Ethereum (ETH). It also supports USD fiat currency for trading. Its supported token is shown in the below table:-
| | | | | | |
| --- | --- | --- | --- | --- | --- |
| 0chain (ZCN) | Consensus AI (SEN) | FOAM (FOAM) | Nucleus Vision (NCA) | Streamr (DAT) | YOYOW (YYW) |
| 0x (ZRX) | Content Neutrality Network (CNN) | FunFair (FUN) | ODEM (ODE) | Swarm (SWM) | ZB Token (ZB) |
| Aelf (ELF) | Contentbox (BOX) | Fusion (FSN) | OmiseGO (OMG) | The Abyss (ABYSS) | Zilliqa (ZIL) |
| AidCoin (AID) | Cortex (CTX) | Gnosis (GNO) | ORS Group (ORS) | Time New Bank (TNB) | |
| Airswap (AST) | Credits (CSX) | Golem (GNT) | ParkinGO (GOT) | TokenCard (TKN) | |
| Ampleforth (AMPL) | CryptoFranc (XCHF) | Hydro Protocol (HOT) | POA20 Network (POA) | Tripio (TRIO) | |
| Aragon (ANT) | DADI (DAD) | iExec (RLC) | Polymath Network (POY) | TrueUSD (TUSD) | |
| Atonomi (ATM) | Dai Stablecoin (DAI) | Internet Node Token (INT) | QASH (QSH) | Ultra (UOS) | |
| Auctus (AUC) | DAOstack (GEN) | IOSToken (IOS) | Raiden Network (RDN) | Universa (UTN) | |
| Augur (REP) | DATA (DTA) | Kleros (PNK) | Rate3 (RTE) | Unus Sed LEO (LEO) | |
| Autonio (NIO) | Data Transaction Token (XD) | Kyber Network (KNC) | Request Network (REQ) | Upfiring (UFR) | |
| Aventus (AVT) | Decentraland (MNA) | Loom Network (LOOM) | Ripio Credit Network (RCN) | USD Coin (USDC) | |
| Bancor (BNT) | Dether (DTH) | LoopRing (LRC) | Santiment (SAN) | UTrust (UTK) | |
| Banyan Network (BBN) | Digix Gold (DGX) | Lympo (LYM) | Seer (SEE) | Vetri (VLD) | |
| Basic Attention Token (BAT) | DragonChain (DRN) | MakerDAO (MKR) | SingularDTV (SNG) | Waltonchain (WTC) | |
| Blockpass (PASS) | Dusk (DUSK) | MATRIX (MAN) | SingularityNET (AGI) | WAX (WAX) | |
| BLOCKv (VEE) | Eidoo (EDO) | MedicalChain (MTN) | SpankChain (SPK) | WePower (WPR) | |
| BnkToTheFuture Token (BFT) | Enjin (ENJ) | Melonport (MLN) | Stasis Eurs (EURS) | Wrapped Bitcoin (WBTC) | |
| Cindicator (CND) | Essentia (ESS) | Mithril (MIT) | Status (SNT) | Xriba (XRA) | |
| Commerceblock (CBT) | Ethereum (ETH) | MobileGo (MGO) | Storj (STJ) | Yggdrash (YGG) | |
You can also deposit US Dollars via bank for trade. Ethfinex works on the Ethereum network, they increase the number of tokens regular bases.
Prohibited Countries
Some countries are prohibited to access the Ethfinex platform. There is a list of some countries they cannot use Ethfinex:-
United States
Syria
Iran
Iraq
Bosnia and Herzegovina
North Korea  (Democratic People's Republic of Korea )
Ethiopia
Uganda
Vanuatu
Yemen
Is it safe to use Ethfinex?
Ethfinex is similar to the Bitfinex. So, in 2016 Bitfinex was hacked and it loses his 72 million Dollars. Basic fundament is to prevent them from using offline storage. Its all funds are stored on the cold platform and only 0.5% of funds are stored in the hot platform. Besides, the cold wallet is not connected to any server. And the cold wallet funds can be manipulated by one of the intervention by various members of the Ethfinex management team.
Some other points to remember to protect yourself from the hack:-
(2FA) Two-factor authentication
Withdrawal Protection
Advanced API key permissions
Email Encryption with OpenPGP
Advanced verification tools to monitor suspicious behavior and the integrity of your account
Pros & Cons
Everythings have some pros and cons. So, Ethfinex has also some prons and cons. Furthermore, let's discuss some pros and cons of it.
Pros
Trade a wide range of ERC20 tokens
The hub for the Ethereum network and ERC-20 Tokens
Margin trading available
Leveraged trading available
Extensive trading options
Advanced charting and order types also offered
A subsidiary of Bitfinex, which has been around since 2013
Fiat and crypto payments accepted
A customer/community-focused platform
Secure use of smart contracts plus high liquidity
Benefits of a centralized exchange
Competitive fees
Cons
Not Accessible to US Residents
Concerns about Transparency
Signup Required
Dependent on the Ethereum Network
You can trade only ERC20 tokens, not others
Its take approximately 5 weeks to complete ID verification
FAQs
1. Is Ethfinex have a minimum deposit value?
Yes, You need to deposit 1000$ equivalent cryptocurrency and start trading.
2. How much amount of cryptocurrency I can withdraw from my account?
There are no limits to withdraw cryptocurrency to your account. However, you just need to give withdraw fees.
3. I am from the US, can I use Ethfinex?
No, currently Ethfines is not available for US regions persons.
4. Can I withdraw my tokens?
Yes, you can withdraw and deposit your token. Before that, you need to do ID verification.
5. How much time taken in ID verification?
Your ID verification takes approximately 5 weeks after submission.
Conclusion
Here we discuss lots of things about Ethfinex and hope you get the information about Ethfinex. You can use it only on the web with the help of any browser. Till it is not available on mobile and desktop users.
**Note: Information contained in this guide is not an offer or solicitation to buy, hold, or sell any security. We're not financial advisors and are simply providing information for educational purposes. Investing in ICO involves a high degree of risk and should be considered only by persons who can afford to sustain a loss of their entire investment.
If you run into any query, feel free to ask us in the comment section and we'll try to help.